Jinye Road, High-tech
Zone, Xi'an, China
MNS Low voltage draw-out switchgear
MNS Low-voltage draw-out switchgear is a combined draw-out low-voltage switchgear(hereinafter referred to as device)which assembled by modular components.The device is used for power plants,power substations,petrochemical industries,metallurgical rolling
High voltage & low voltage switchgear series
---
Online Message
■ Product profile
MNS Low-voltage draw-out switchgear is a combined draw-out low-voltage switchgear(hereinafter referred to as device)which assembled by modular components.The device is used for power plants,power substations,petrochemical industries,metallurgical rolling,light industry textile,other industrial mining enterprises,residential community and high-rise buildings etc.It can be used for power conversion,power distribution and power control for motor control center,capacitance compensation of low-voltage distribution system with 50-60 Hz AC and rated working voltage of 660 V or below.
The device meets the national standards of IEC 439,Part 5 of VDE 660 and GB7251.1-2005"Low Voltage Switchgear and Control Equipment"and the professional standards of JB/T9661-1999"Draw–out Low Voltage Switchgear Equipment".
■ Model description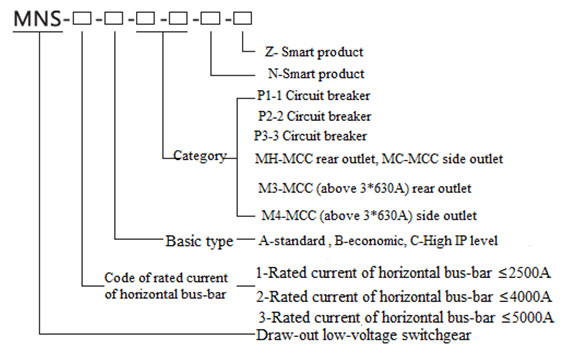 ■ Product features
● Compact design:It can hold more functional units in limited space.
● High universality and flexible assembly:It adopts 25mm modular design to facilitate space division in cabinet and drawer deepening,and can meet various structural forms,IP levels and working environment.
● Standard module design:It can be formed from protection,operation,conversion,control,regulation,measurement,indication and other standard units.Users can choose randomly according to their needs.With more than 200 kinds of assemblies,different schemes of frame structure and drawer unit can be formed.
● Safety:High-strength flame-retardant engineering plastic components are used to enhance the protection safety effectively.
● High technical performance:Main parameters meet international technical level.
● Compressed site:high degree of three transformations,which can greatly compress the storage and transportation of performed sites and make full use of the distribution room space.
● Convenient assembly:Don't need special complex tools.
● Power receiving,bus-bar switchgear.
● Power distribution central cabinet(PC).
● MT,E,CW1,RMW1 and other circuit breakers are used.
● Motor control center cabinet(MCC).
● The main switch of each circuit is made of high breaking plastic circuit breaker or rotating load switch power factor to compensate the cabinet automatically.
■ Technical parameters

ONLINE MESSAGE
*Note: Please be sure to fill in the information accurately and keep the communication unblocked. We will contact you as soon as possible