Jinye Road, High-tech
Zone, Xi'an, China
TBB High voltage automatic reactive power compensation device
TBB High voltage automatic reactive power compensation device (hereinafter referred to as device) is mainly used for the automatic reactive power compensation device of 10kV bus-bar in 35kV or 110kV substation. According to the changes of the reactive power of the bus-bar in the substation, it can automatically control the switching of the capacitor bank to improve the power factor in the substation. The installation of the device is divided into indoor installation and outdoor installation
Reactive power compensation series
---
Online Message
■ Application field
TBB High voltage automatic reactive power compensation device (hereinafter referred to as device) is mainly used for the automatic reactive power compensation device of 10kV bus-bar in 35kV or 110kV substation. According to the changes of the reactive power of the bus-bar in the substation, it can automatically control the switching of the capacitor bank to improve the power factor in the substation. The installation of the device is divided into indoor installation and outdoor installation.
■ Model and description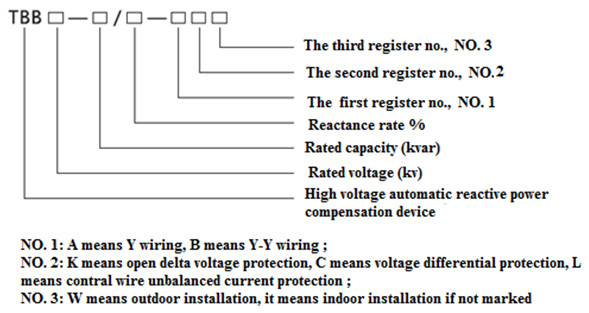 ■ Configuration & working principle
The device is mainly composed of isolation switch,vacuum contactor,protective current transformer,spraying type fuse,high-voltage parallel capacitor,dry-type iron core reactor,discharge coil,arrester,shell,control system etc.
Working principle:The control system collects the real-time voltage and current of the bus-bar according to the voltage transformer and current transformer of the bus-bar in power substation.After calculation and processing,the controller sends the input or removal instruction to control the opening and closing action of the vacuum contactor,so as to realize the switching of the capacitor.
■ Product features
● To control the power factor and system voltage within the set range by automatically tracking the switching capacitance and high voltage compensation.
● It can flexibly select and compensate various working modes by remote automatic selection switch.
● It can real-time display the voltage,current,power factor,reactive power,capacitor switching status and alarm protection information of the low voltage side of the main transformer.
● It can be divided into 8 groups with the maximum capacity of 1800kvar according to the total compensation capacity.Automatic cyclic switching,switch on first switch off first,to ensure that all the capacitors are in time average of usage,and the same capacitor bank in less than the discharge time is not put into use again.
● Reactor with different ratio is equipped to limit switching inrush current and restrain higher harmonic wave.
■ Main technical parameter
■ Installation method
The installation of device is divided into indoor installation and outdoor installation according to the user's requirements.The diagram is as follows: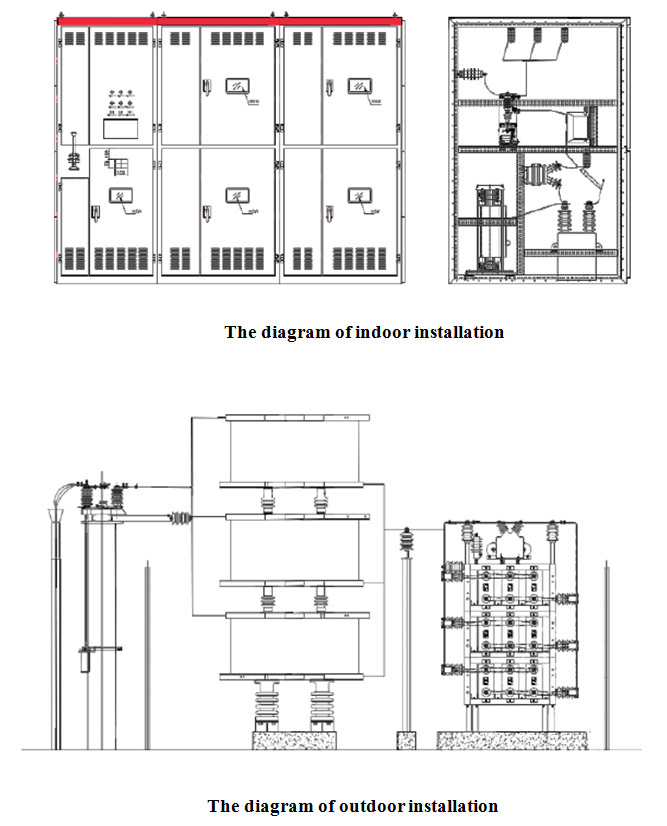 ONLINE MESSAGE
*Note: Please be sure to fill in the information accurately and keep the communication unblocked. We will contact you as soon as possible