Jinye Road, High-tech
Zone, Xi'an, China
HSVG High Voltage Static Var Generator
HSVG series high voltage static var generator is a reactive power compensation system with IGBT as its core.It can provide capacitive or inductive reactive power rapidly and continuously,realize constant reactive power,constant voltage and constant power factor control at test point,and ensure the power system work stably,efficiently and excellently
Reactive power compensation series
---
Online Message
■ Product profile
HSVG series high voltage static var generator is a reactive power compensation system with IGBT as its core.It can provide capacitive or inductive reactive power rapidly and continuously,realize constant reactive power,constant voltage and constant power factor control at test point,and ensure the power system work stably,efficiently and excellently.In distribution network,small and medium capacity HSVG products installed near some special loads(such as electric arc furnaces)to significantly improve the power quality of the connection point between load and public power grid,such as improving power factor,overcoming three-phase unbalance,eliminating voltage flicker and voltage fluctuation and restrain harmonic pollution etc.
■ Working principle
The basic principle of HSVG is to use turn-off high power electronic devices(such as IGBT)to form a self-commutating bridge circuit,which can be connected in parallel with the reactor in the power grid.The circuit can absorb or emit reactive current that meets the requirements by properly adjusting the amplitude and phase of the output voltage on the AC side of the bridge circuit,or directly controlling the current on the AC side,,which can realize dynamic reactive compensation.
■ Model description

■ Product features
HSVG is designed with high reliability,easy operation and high performance,and meets the urgent need of users to improve the power factor of distribution network.STATCOM uses a new IGBT power device and is controlled by a fully digital microcomputer.It has the following features:
1.It is easy to install,set&debug.
2.Real-time tracking of load changes,dynamic compensate reactive power and improve power factor of the system.
3.It adopts fiber trigger technology,to realize the electrical isolation between primary system and secondary system,and solve the interference problem,which achieved high reliability and controllability.
4.The main circuit adopts structure of IGBT composed H-bridge power unit combined inverter main circuit.The output is formed by stepped sinusoidal PWM wave with good sinusoidal wave.
5.Modular design of power circuit,simple maintenance and good interchangeability.
6.Fast dynamic response time.
7.Real-time tracking of the change of the power grid current to realize dynamic stepless compensation for reactive power.
8.There is no transient impact,no inrush phenomenon,no arc reburning when switching,re-switching without discharge.
9.With complete protection function,such as over voltage,under voltage,over current,overheat protection,high reliability of operation.
10.Little maintenance and low operation cost.
■ Technical parameter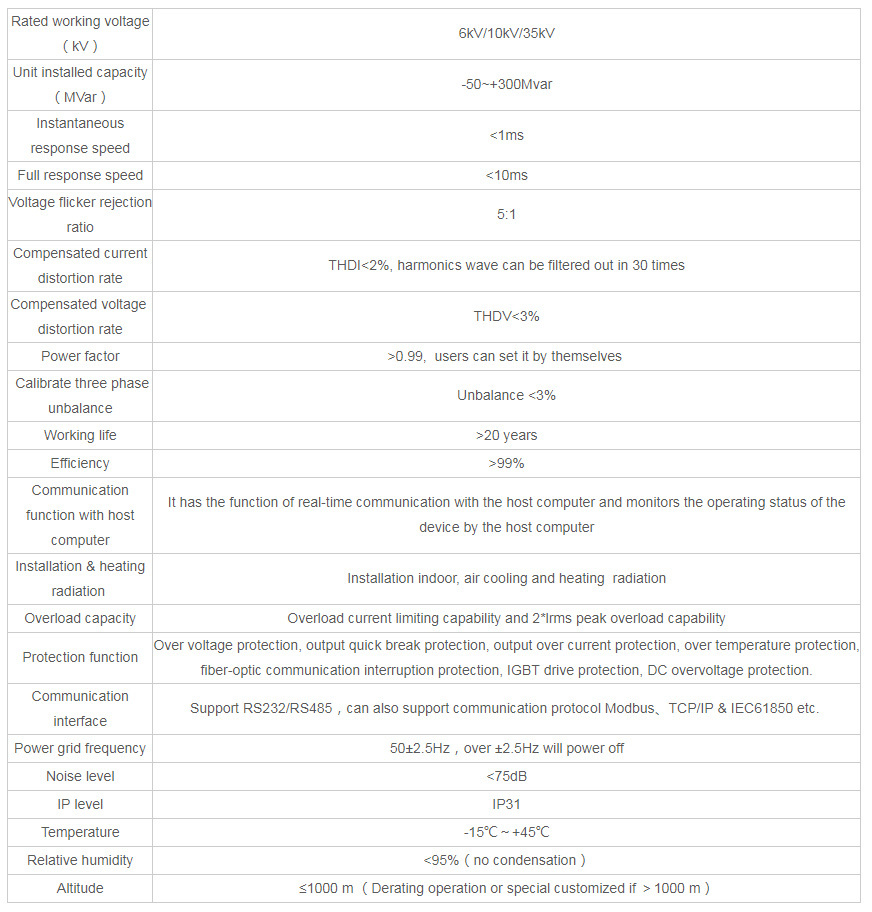 ONLINE MESSAGE
*Note: Please be sure to fill in the information accurately and keep the communication unblocked. We will contact you as soon as possible