Jinye Road, High-tech
Zone, Xi'an, China
Active power filter (APF)
Active power filter(APF)adopts the most advanced dynamic real-time tracking compensation method to eliminate harmonic wave in power grid.It detects the current waveform generated by non-linear load in real time and extracts the load harmonic component by advanced algorithm,and injects the compensating current with equal amplitude and opposite phase into power grid to realize real-time dynamic harmonic filtering function and ensure the final injection of power in power grid is standard sinusoidal wave
Three-phase unbalanced series
---
Online Message
■ Product profile
Active power filter(APF)adopts the most advanced dynamic real-time tracking compensation method to eliminate harmonic wave in power grid.It detects the current waveform generated by non-linear load in real time and extracts the load harmonic component by advanced algorithm,and injects the compensating current with equal amplitude and opposite phase into power grid to realize real-time dynamic harmonic filtering function and ensure the final injection of power in power grid is standard sinusoidal wave.
APF has three different structural types:modular APF,wall-mounted APF and cabinet APF,which can meet the needs of different application environments for power quality management.
■ Working principle
APF collects current signals from external CT and transmit to signal conditioning circuit in real time,and then sends them to the FPGA controller.The controller separates the fundamental components and extracts all harmonic waves.The controller outputs the cut value obtained by comparing the collected harmonic component with the compensation current sent by APF as the real-time compensation signal to the drive circuit,which trigger the IGBT converter to generate the harmonic current opposite to the load harmonic current and inject it into the power grid,so as to realize the function of harmonic filtering.
■ Product features
● The response speed does not exceed 100us,and can compensate frequent changes of the harmonic wave quickly.
● It has protection functions of output over current,DC side over voltage,DC side under voltage,AC side over current,AC side over voltage,IGBT dead zone protection and IGBT comprehensive protection.
● It can expand the capacity by parallel connect cabinet,which makes it possible to compensate the large capacity harmonic wave and greatly reduces the cost.
● Simple operation,only need to parallel connect to system with load,don't need other operation.
● Independent intellectual property rights in the field of controller and converter technology and product structure.
■ Technical parameters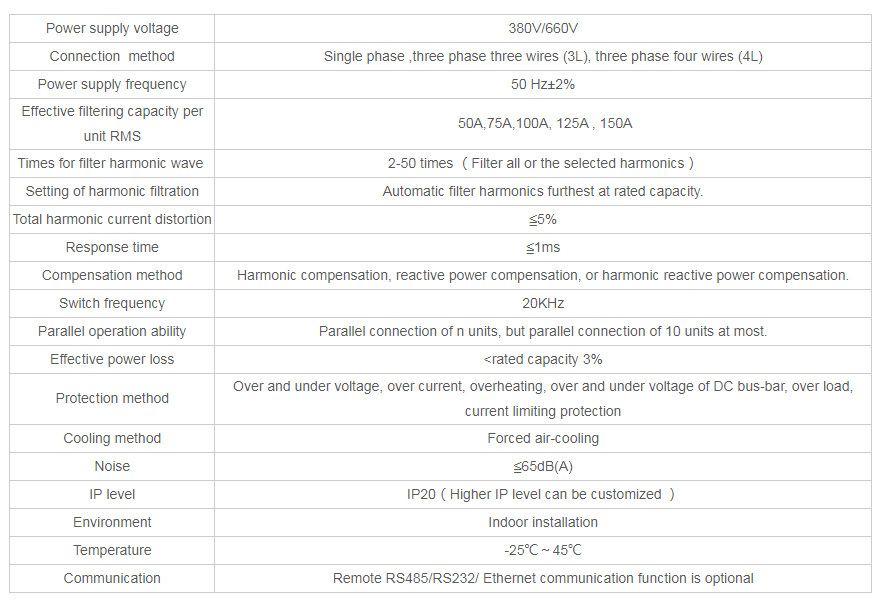 ONLINE MESSAGE
*Note: Please be sure to fill in the information accurately and keep the communication unblocked. We will contact you as soon as possible