Jinye Road, High-tech
Zone, Xi'an, China
LSVG Low Voltage Static Var Generator
Low Voltage Static Var Generator(hereinafter referred to as LSVG device)adopts intelligent DSP control chip and high-speed IGBT module,and application is based on real-time detection algorithm of instantaneous reactive power theory,which can real-time compensate the common power quality problems of the imbalance of reactive power and current and control voltage flicker,which to ensure the economic and safe operation of industrial mining enterprises
Three-phase unbalanced series
---
Online Message
■ Product profile
Low Voltage Static Var Generator(hereinafter referred to as LSVG device)adopts intelligent DSP control chip and high-speed IGBT module,and application is based on real-time detection algorithm of instantaneous reactive power theory,which can real-time compensate the common power quality problems of the imbalance of reactive power and current and control voltage flicker,which to ensure the economic and safe operation of industrial mining enterprises.
■ Model description

■ Configuration & working principle
The device parallel connect with system,dynamic continuous compensate reactive power rate,which can compensate capacitive reactive power and inductive reactive power.It has the ability of full power phase separation compensation and can be flexibly applied to power distribution system.Real-time test the load current of the system,at the same time,resolve it to get the reactive current of each phase and the same and opposite direction current of equipment output and grid reactive current,so as to achieve the function of eliminating reactive power and improving power factor.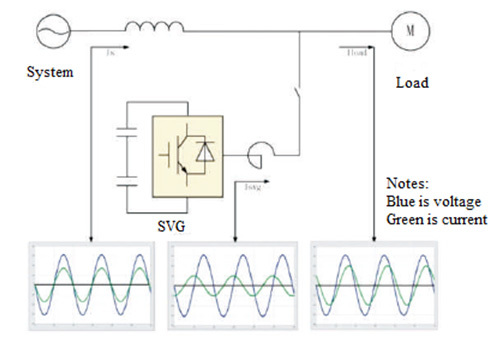 ■ Product factures
As an energetic new technology,LSVG device has the features as following:
● Intelligent control,no debugging.
● The internal module adopts plug mode,which can realize column maintenance.
● Modules are operated in parallel to expand the capacity of the equipment easily.
● It has the function of full power phase splitting compensation and reactive power compensation of transformer.
■ Main parameters

ONLINE MESSAGE
*Note: Please be sure to fill in the information accurately and keep the communication unblocked. We will contact you as soon as possible