Jinye Road, High-tech
Zone, Xi'an, China
S13 (11) series oil-immersed distribution transformers
S13(11)-M-30~2500kVA three-phase oil immersed fully sealed distribution transformer is different from the general oil immersed transformer.It cancels the oil storage tank and uses the corrugated plate heat sink of the oil storage tank to radiating&cooling,which to compensate the increase or decrease of oil volume by its elastic expansion and contraction.All series of products are suitable for 10kV,20kV and 35kV power transmission and distribution systems,and can be used for power and lighting in residential areas,commercial streets,industrial and mining enterprises and rural areas
---
Online Message
■ Product profile
S13(11)-M-30~2500kVA three-phase oil immersed fully sealed distribution transformer is different from the general oil immersed transformer.It cancels the oil storage tank and uses the corrugated plate heat sink of the oil storage tank to radiating&cooling,which to compensate the increase or decrease of oil volume by its elastic expansion and contraction.All series of products are suitable for 10kV,20kV and 35kV power transmission and distribution systems,and can be used for power and lighting in residential areas,commercial streets,industrial and mining enterprises and rural areas.
■ Model description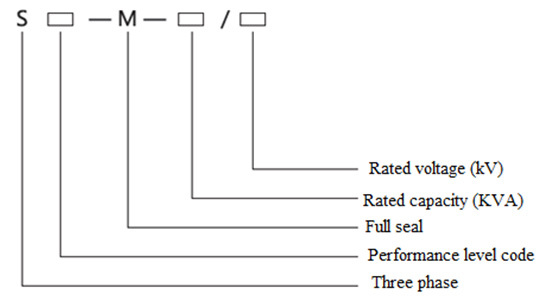 ■ Product features
● Energy saving
The product with new design serial number has better performance,further reducing no-load loss and load loss index.
● Long service time
The box cover and the box edge of the fully sealed pedestal changer adopt the structure of bolt connection or welding dead,which insulates the contact between oil and air,the insulation will not be affected with damp,greatly reduces the aging speed of the insulation,and improves the service life
● Free hanging core
The user does not need to check the hanging core before the operation of the fully sealed transformer,so the user can save the checking cost of the hanging core.
● Free maintenance
Free maintenance for fully sealed transformer.
● Low noise
Compact design,application of new materials and new technology,noise reduction.
● Small size,beautiful appearance
■ Main parameters
The main technical parameters of full sealed power transformer S11-M

The main technical parameters of full sealed power transformer S13-M

ONLINE MESSAGE
*Note: Please be sure to fill in the information accurately and keep the communication unblocked. We will contact you as soon as possible