Jinye Road, High-tech
Zone, Xi'an, China
SCB10 dry type transformer
SCB10 epoxy resin casting dry-type transformer is an updated model of SCB9.The transformer is made of high quality materials,scientific formula and advanced production and testing equipment according to strict production technology.The product has the characteristics of high reliability and long service life.It can be configured with shell of different protection level or without shell according to the different using environment.SCB10 transformer can be used as the updated oil immersed transformer,which is suitable for high-rise buildings,commercial centers,airports,tunnels,chemical plants,nuclear power plants,ships and other important or special places
---
Online Message
■ Product profile
SCB10 epoxy resin casting dry-type transformer is an updated model of SCB9.The transformer is made of high quality materials,scientific formula and advanced production and testing equipment according to strict production technology.The product has the characteristics of high reliability and long service life.It can be configured with shell of different protection level or without shell according to the different using environment.SCB10 transformer can be used as the updated oil immersed transformer,which is suitable for high-rise buildings,commercial centers,airports,tunnels,chemical plants,nuclear power plants,ships and other important or special places.
■ Model description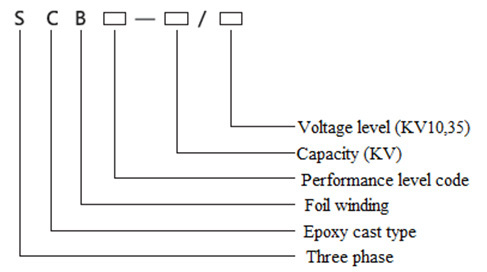 ■ Product features
● Compared with SCB9,SCB10 transformer has lower no-load loss,no-load current and noise.
● Safety,fire-proof and pollution-free,it can be operated directly in the load center.
● High mechanical strength,strong short-circuit resistance,small partial discharge,good thermal stability,high reliability and long service life.
● Good heat dissipation performance and strong overload capacity,which can improve capacity operation when forced air cooling.
● Good moisture-proof performance,suitable for operation in high humidity and other harsh environment.
● It equipped with perfect temperature monitoring and protection system.The intelligent signal temperature control system can automatically monitor and display the working temperature of each phase winding on the same screen,automatically start and stop the fan,and have the functions of alarm,trip etc.
● Small size,light weight,less floor space and low installation cost
■ Main parameters

ONLINE MESSAGE
*Note: Please be sure to fill in the information accurately and keep the communication unblocked. We will contact you as soon as possible