Jinye Road, High-tech
Zone, Xi'an, China
Column high voltage intelligent reactive power compensation device
The high-voltage intelligent reactive power compensation device adopts a national patent technology,which integrates permanent magnet vacuum switch,high-voltage capacitor and intelligent controller(including communication).Compared with the general compensation device,the volume and weight of the device are greatly reduced,and the installation is more convenient.The design field strength and the number of internal components of this capacitor are different from general capacitors,which delay the aging of capacitor raw materials,greatly improve its product performance and prolong its service life
Reactive power compensation series
---
Online Message
■ Product profile
The high-voltage intelligent reactive power compensation device adopts a national patent technology,which integrates permanent magnet vacuum switch,high-voltage capacitor and intelligent controller(including communication).Compared with the general compensation device,the volume and weight of the device are greatly reduced,and the installation is more convenient.The design field strength and the number of internal components of this capacitor are different from general capacitors,which delay the aging of capacitor raw materials,greatly improve its product performance and prolong its service life.
■ Model description

■ Configuration & working principle
The device consists of high-voltage intelligent capacitor(including permanent magnet vacuum switch,high-voltage capacitor),control unit,sampling current transformer,voltage transformer,arrester,outdoor drop-out fuse etc.
Working principle:The control unit calculates and processes the real-time voltage and current of the line collected by sampling current transformer and voltage transformer.The control unit sends the input or removal instruction to control the opening and closing of the permanent magnet vacuum switch,so as to realize the capacitor to be switched on and off.Outdoor drop-out fuse short circuit the device,once the device has short-circuit fault,drop-out fuse will fuse immediately to prevent device fault expansion and damage to the line.
■ Product features
● Real-time tracking and dynamic compensation
● Flexible control mode
● Parameter monitoring,convenient communication
● Convenient&flexible installation&configuration
■ Main technical parameters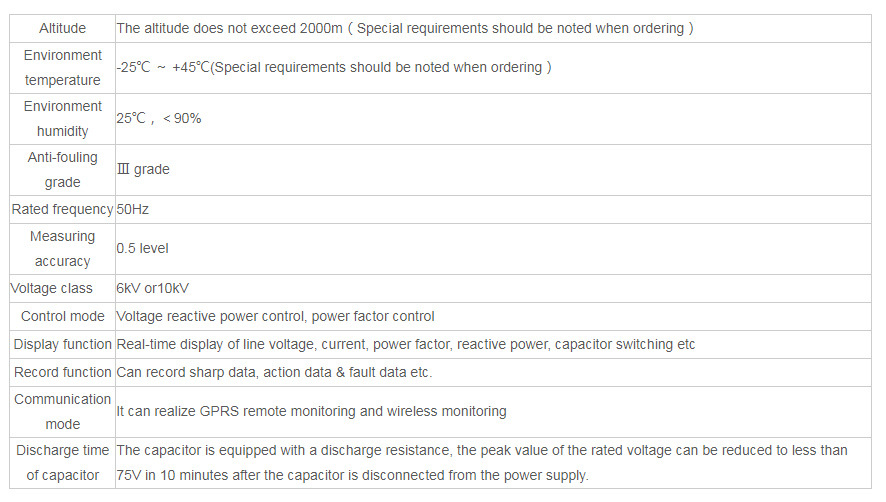 ■ Installation method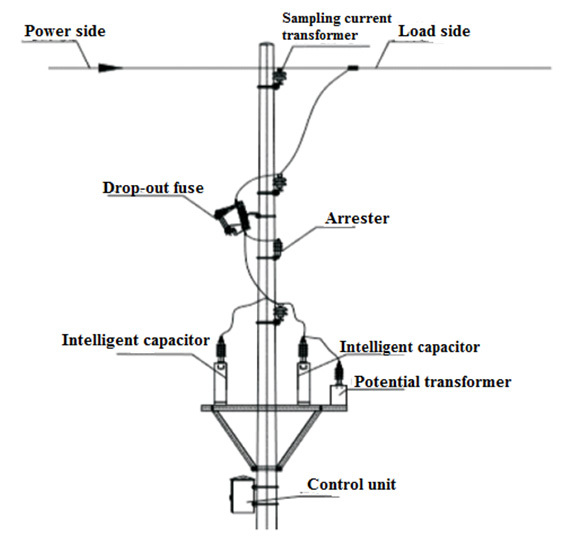 Installation bracket is made of channel steel,tightened bolts,angle steel support,and steel hoops connect the installation bracket and wire rods firmly.Installation bracket is simple and fast.It has been proved by long-term operation of equipment that the design of installation bracket is reasonable,standardized,safe and reliable.
The device is connected in parallel to the line,and three-phase conducting wire A,B and C are needed to be connected to the corresponding A,B and C conductive rod respectively,so the connection process is very convenient.
ONLINE MESSAGE
*Note: Please be sure to fill in the information accurately and keep the communication unblocked. We will contact you as soon as possible